STEELCRAFT COMPANY HISTORY
_____________________________________________
The company known as Churchward & Company began business in New Haven, Connecticut in 1921. One of the first welding businesses in the city it manufactured vulcanizing pans, truck tanks, silencers for Maxim Silencer Corporation, and quadrants for Wilcox, Crittenden & Co., Inc. and various other items.
In November 1942 the Company moved to its present location in West Haven and began the manufacture of deck houses, hatches and gun mounts for Navy ATRs. This work was done for Wheeler Shipbuilding Corporation of Whitestone, New York. As facilities were expanded bows and sterns for Army Supply Vessels were also manufactured.
In November of 1944 we started the fabrication of sections for AK boats for the Walsh-Kaiser Company of Providence, Rhode Island. During this time we also built bows and sterns of submarines for the Electric Boat Company of Groton, Connecticut and received the Award of Merit for this work.
In June of 1945 we completed all but one contract for the government and this order was experimental and is still a secret as to its nature.
At this time we began to manufacture welded steel boats known as Steelcraft. We delivered our first Steelcraft cruiser in October 1945 and thereafter we gradually increased our production of these boats to the peak figure of six boats per day, which rate of production was maintained for several months during 1947. To date, over 2500 of these welded steel cruisers have been built at the West Haven yard.
A COLOR BOOKLET OF THE 1949 STEELCRAFT FLEET WITH MODEL SPECIFICATIONS
In May, 1950, the company was reorganized and the name changed to Steelcraft Boats, Incorporated, to take advantage of the corporation's registered trademark, "Steelcraft".
The company has continued to manufacture steel cruisers, work boats and tugs and for sometime has been producing steel engine containers for aircraft engines as well as other small welded structures.
For an in-depth, real world view of the operation, Marcus Hall, Jack Churchward's chief designer recommends the following December 1948 article from Motor Boating Magazine as a thorough and accurate account.
_______________________________________________________

The Steelcraft Story: Economy and Safety

by Gene Wallace
About 80 per cent of Steelcraft buyers have never owned a boat before. Consequently their enthusiastic reception of the Churchward Company's boats is high tribute to the boats' appeal to Mr. and Mrs. Everyman, and bears out Jack Churchward's reference to his boats as "the poor man's yacht."
No individual part of the Churchward story that meets the casual eye can be said to be new. Steel boats are not new - back about the turn of the century an American steel boat builder set a production record for the number of pleasure boats built by a single concern in a year that, before or since, has never been equaled. Steel boats and yachts have been built for years in such countries as Holland and Germany, where steel is, or was, cheaper than wood. However, today Churchward & Company, located in West Haven, Connecticut, is the world's largest builder of steel boats, having turned out 2,025 Steelcrafts in the past three years.
The techniques employed in Steelcraft construction are adaptations stemming from the automobile industry, with use of standardized models, jigs, sub-assemblies, and an assembly line. The system of distribution is one common to the stock boat industry: 13 regional distributorships are set up, with dealers in practically every port in the country, and in many foreign countries as well. A large-scale advertising campaign is used to carry out efficient sales promotion of a good product. However, the way in which individual factors have been worked out, and the caliber of the design and development work has been very good indeed.
The boat didn't just arrive overnight. "Old Electrolysis," as Jack Churchward 's hull No. 1 is called, built in 1933 and apparently still sound in wind and limb-if no glamour girl-sits in the builder's yard surrounded by her newer sisters to attest to this. No matter what power plant is installed in her, she probably wouldn't do much over seven knots.
The first Steelcrafts were wet and had a tendency to stick their nose under in a chop, because at the bow they had flam and little or no flare, underwater. Also, they didn't hold paint on their tough steel hides. These and other bugs have been corrected. The Steelcraft "SeaVee" bow form, an ingenious adaptation of the underwater concave V shape, for use with developable surfaces, is extremely efficient. The paint situation has been licked by the use of suitable priming coats under a Vinylite base paint developed by the Woolsey Paint & Color Company. The boats have become smoother, dryer, faster and better finished, while still retaining their original twin goals: economy and safety.
The five-acre Churchward Company plant at West Haven Connecticut. More than 2,025 Steelcraft have been produced here.
The boats are tough-no question about it. Hulls have been dropped deliberately into the water from a tremendous 65-ton stiff-leg crane that launches all the Steelcrafts-from as high as 106 feet-with no more damage than dents. Steelcrafts have survived almost every type of stress-including going over a dam, pounding on a stone breakwater for more than fifty hours, being squeezed between a freighter and a pier, and so forth. Damage sustained? Chewed-up propellers and dents in the hulls. When it is realized that a .38 caliber bullet fried from a pistol at 20 paces merely dimples the hull 1/8 inch, the boats' degree of toughness becomes apparent. (They would have been great craft in the rum-running days!) And they are popular craft in tropical waters, where the teredo and other marine borers develop voracious appetites for wooden hulls, but are stopped cold by steel. As a result, Steelcrafts are serving in 21 countries, from Chile to Sweden, and from the Persian Gulf to Africa; not alone as pleasure craft, but in navies and coast guards, as work boats, and in other specialized services.
The Steelcraft hulls are electrically arc-welded of Jones & Laughlin copper-bearing Oticoloy high-tensile steel. This steel is highly resistant to abrasion and corrosion, and is from 35 to 40 per cent stronger than mild steel. The whole side of the 26-foot models is cut from a single sheet of #12 U.S.S.G. material. The hulls are completely stress-relieved.
The longitudinal system of hull construction is used, that is, instead of a number of transverse frames, as is common in wooden construction, the hulls are reinforced with longitudinal stringers and a relatively few transverse stiffeners and bulkheads.
The boats are not of all-steel construction, of course. The cabin tops are made of molded plywood, formed in Churchward's own autoclaves. The linoleum-covered floorboards and much of the interior joiner work and trim are of wood. Hardware is brass and chromium.
A Steelcraft cruiser starts on its trip through the production line in the big three-bay hull shop. Steel sheets are delivered here and plating sections are marked out from master templates. Then, sliding forward on roller tables the sheets are cut to shape with a most ingenious giant can-opener type nibbler developed by Churchward. The speed with which this machine cuts smoothly through the tough steel plates saves many hours of assembly time, and the edges do not require the finishing and grinding which would be necessary if cutting torches were used.
The plates are then pickled and Parkerized to make them corrosion-resistant, and then pass to the subassembly bay. Here the bottom plates are welded together in upside-down position and then turned over for the addition of transverse floors and flat bar longitudinals, thus forming the bottom subassembly. The side plates are put into a most interesting and original jig (aptly called the "roller coaster") where a cold-rolled edge is squeezed onto the plates. The foredecks are assembled, completed with fore hatch and deck beams. The transoms are assembled as a unit and then these sub-assemblies are put together in a big positioning jig which revolves about its longitudinal axis so that the hull may be worked on in any position, to form the bare shell of the boat.
The hull shells are ground, sand-blasted and further treated, then given their priming coats of paint. They then pass to the feeder pool from which the 300-foot double assembly line is supplied.
Twenty 26-foot Steelcrafts are accommodated on the assembly line. They move forward on steel cradles which ride on roller tracks. The two assembly lines are divided by a raised island with a deck or catwalk level with the sheer of the hulls. Along the outer edge of each line is a similar but wider raised deck. On these decks and underneath them are stored the sub-assemblies and parts that are installed on the line, fastenings, and so forth.
Every three hours the plant whistle blows and the boats, tied together like a string of elephants holding tails and trunks, move along one station space. At the far end of the line two completed boats are taken off for shipment by truck, trailer, rail, ship or sailaway delivery. During the 30 working hours that a hull has been on the assembly line the engine and fittings, cabin top and sides, bunks, toilets, galley equipment, clothes lockers, Monel shafts, rudders, propellers, trim and so on have been completely installed. These parts feed into the assembly line at right angles, as they would on an automobile assembly line.
The plant is most completely equipped for a relatively new organization. Although Jack Churchward built his first steel boat 15 years ago, the first Steelcraft was not delivered until October 1945, following the firm's wartime hitch with the Army and Navy. In addition to the big hull shop and the assembly line building, there are, housed in separate buildings, a general office and the engineering department, a machine shop, electrical shop, saw mill, paint shop and refrigerator assembly building; a top shop where the molded plywood tops are fabricated; pickling shop, stock buildings, mold loft, joiner shop; and smaller miscellaneous buildings. Plans are being made to construct additional buildings to better handle the seven-figure volume of business which the company is now doing.
Fluorescent lighting is lavishly used throughout the plant, and electric outlet cords for small tools in the work areas slide on overhead metal rails for better positioning. Handling equipment ranges from the 65-ton stiff leg crane installed on the 570-foot dock to numerous small hoists spotted throughout the plant. The plant has its own cafeteria where meals are served at less than cost; and there is a registered nurse and dietitian in attendance. The buildings are kept well-painted and shipshape.
It might be thought that these factors have no bearing on a production story, but they do much to build "esprit de corps", which the 500 Steelcraft workers certainly have. This fine spirit helps in building better boats more quickly, and so makes possible, in large measure, the Steelcraft's economical pricing.
Some other things which go to make up Churchward Company's team spirit are: If a worker's wife has a child, he receives a bonus of $25.00; twins receive $100.00; triplets $500.00. No figure has been set for quadruplets, but Jack Churchward has remarked that it would probably mean turning over the business to the lucky family. The plant has softball and bowling teams and, when his duties permit, Jack Churchward pitches for the softball team. The company is constantly experimenting with new ideas and models, and generally has an experimental hull under some stage of construction. These boats, when they have served their usefulness as an industrial laboratory experiment, go to one of the workmen.
The unique Steelcraft spirit is not confined to the men who make the boats-the owners too have fraternal feelings. In fact, a Steelcraft owners' club was formed in Boston in 1947, at which time a regatta was held on the Charles River. The idea has since spread to such an extent that at last count there were 965 members. These owners exchange information and ideas through mimeographed newsletters and have found the organization helpful in many ways. For instance, a group of Steelcraft owners in the Bridgeport, Connecticut, area have completed arrangements with Joe Savage's boatyard in Black Rock to have their boats hauled for winter storage at a flat fee of $45.00 each. This fee includes haulout, scrubbing the bottom, storage, a coat of bottom paint in the spring, and launching. The boats are stored in their own double row, called Steelcraft Alley, and it seems to be an arrangement which makes everyone concerned quite happy, and one which might find application elsewhere.
At the present time the Churchward Company is building three standard sizes of Steelcrafts. There is the 26-foot cruiser which can be had in eight different hull models and a large variety of power plants. Its basic dimensions are 26 feet by 9 feet 6 inches beam by 2 feet 6 inches draft. Six of these are being completed daily. Then there is the 20-foot deluxe utility runabout, a 20-foot by 7-foot beam by 23-inch draft utility with good freeboard and a big cockpit; a boat that trolls at 2 m.p.h. and makes 30 m.p.h. with the standard installation of a 6-cylinder 116 h.p. engine. Two of these boats are being completed daily.
Newest of all Steelcrafts is the 35-foot two stateroom sedan-a big boat which sleeps six and has 6 feet 4 inches headroom in both cabins. Current plans call for 75 of these boats to be produced during the coming year.
The Steelcraft line ranges in price from $2,295 for a 20-foot Sea Dog Utility with a 4-cylinder Gray model 475D engine, to $10,985 for the new 35-foot two-stateroom sedan. The prices for the 26-foot models range from $3,797 for the Holiday cruiser with a Gray 116 h.p. red. model to $8,201 for a twin-screw twin-stateroom deluxe sedan equipped with two Gray model 6220D engines. Engine installations with power up to 360 h.p. can be installed if so desired. Steelcraft has standardized on the Gray and Packard engines.
In addition to the firm's stock boats, it is currently turning out (under a $1,000,000 contract) one 45-foot boat weekly, and one 32-foot daily for the Creole Petroleum CO., for use in Venezuelan offshore fields. These are extremely rugged, Diesel-powered boats designed by Philip L. Rhodes expressly y for this service. The Churchward Company is also engaged on government development projects.
Fifty-four-old Jack Churchward is a metallurgical engineer and a graduate of Exeter, Princeton and the University of Göttingen, Germany. He holds more than fifty patents, and much evidence of his ingenuity, and that of his chief engineer, Marcus A. Hall, and his superintendent, George Lawlor, is to be found in the equipment and arrangement of the plant.
A one-time development engineer for the Ford Motor Company, it is his hope to develop a cruiser which can be sold for $1,000-a Ford of the waterways. As a step in this direction plans are being made to eventually establish west coast and southern assembly plants and to ship knockdown boats to those areas. At present it costs as much as $900.00 to ship a boat to the west coast. A steel boat, because of its relatively few hull parts, lends itself better to knock-down shipment than a wooden boat would and, contrary to popular belief, a Steelcraft two-cabin sedan, which weighs 5,980 pounds, is about 400 pounds lighter than a comparable wooden boat.
Since less than 1 per cent of today's cruisers are made of steel, and since at last year's Motorboat Show the Churchward Company set an all-time record of selling 561 cruisers, the builders of Steelcrafts feel that their 5-acre plant and their product have a most promising future.
With boat prices double what they were a decade ago boat buyers are becoming increasingly price-and-value conscious. It is significant that Churchward & Company have met the postwar challenge with flying colors, through extensive application of mass production methods. Steelcrafts have also made an enviable safety record because of their electrically-welded steel hull construction. These two factors-economy and safety-may be said to be the keynotes of the Steelcraft story.
_______________________________________________________
In May of 1950 Churchward and Co. reorganized under the name Steelcraft Boats, Inc. In September 1952, Steelcraft Boats, Inc. filed bankruptcy.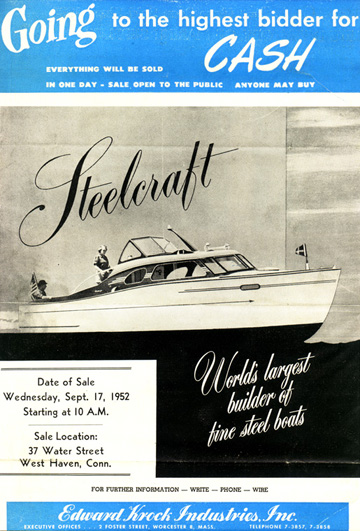 Footnote to the bancruptcy sale: Marcus Hall informed me that the original Churchward jigs used to shape the Steelcraft's classic hulls were abandoned for years in an adjacent yard near the West Haven facility before going to the scrap metal recyclers.
______________________________________________________________________________________________________
Since hosting this site for over two years, I have only heard from two 35' owners and know of only one runabout model. However, a large number of the 26' sedan cruisers survive throughout the USA and even some abroad. I've heard from a 26' owner in Sweden.
Several notable restorations are presented here. Click on PHOTO GALLERY to view these.
We have a large collection of vintage ads, brochures and documents which are available by high quality reproduction.
Please email for information and pricing.
______________________________________________________________________________________________________